Exciting Opportunities
CCM is a growing business attracting talented individuals to deliver major construction projects across the UK. We support all of our team members to achieve the best of themselves and their goals to grow within CCM and the construction industry as a whole.
We have fantastic opportunities to join our on-site civils delivery teams at various levels. This includes project managers, site managers, site engineers, quantity surveyors, health & safety managers, design manager, building services managers and site administrators.
Graduates
If you are a graduate with an appropriate qualification within the construction industry then we want to talk to you!
We are particularly interested in construction-biased degrees, whether they are the technical aspects or the commercial aspects of construction.
Trainees
We are passionate about developing our trainees to be able to improve their skills and gain additional qualifications in the industry. We will support you by providing relevant on-site experience, mentoring by the senior management team and providing flexibility to attend college as required.
Apprentices
We are fully engaged in bringing apprentices through the industry using the apprenticeship schemes available. We will provide the support you need to improve yourself and move up in the industry.
How to apply
If you are interested in joining our excellent team, please get in contact and provide your details, interests and CV.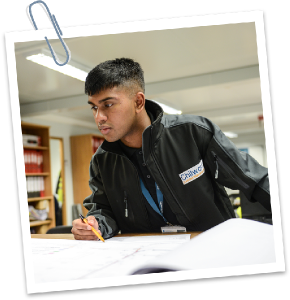 Working for CCM from an early point in my career has shown me the vital mentality and competence needed to work on major construction projects. This has given me a greater understanding of the sequence and critical planning which must be taken into consideration when working on complex projects.
Every day at the Dundee Energy From Waste has been a learning experience for me. From learning about the construction process of reinforced concrete walls to the installation and design of fire detection systems and even lift installations.
My time at the Dundee Energy From Waste has been challenging yet rewarding. No day is the same and I can happily say I go to work every morning with a smile on my face and leave the same way, helped by the amazing colleagues at CCM.
I currently study HNC Civil Engineering at Dundee and Angus College on day release and hope to progress onto completing a BSc (Hons) in Construction Management.
More about Ruhul:
In Ruhul's spare time he enjoys going on runs and spending time with his family and friends.
Our Approach and Project First
We always put the project first to ensure civil works are delivered in a transparent, hassle-free and cost-effective way.